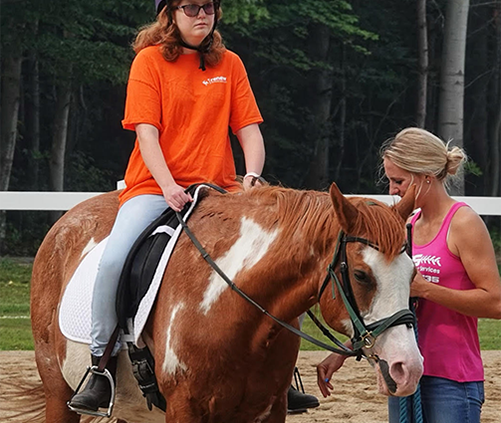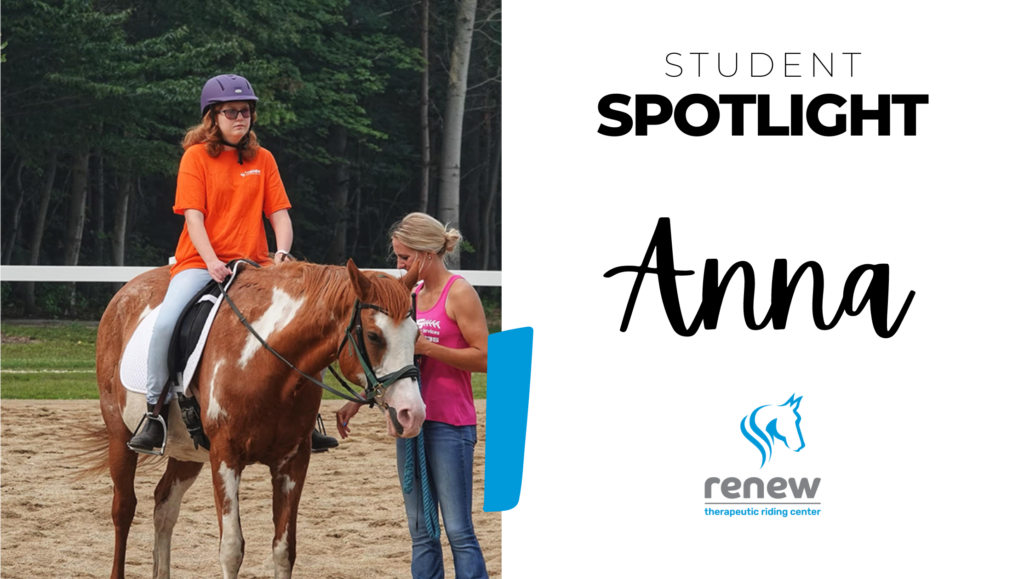 This month we have a special treat for you. Anna is one of Renew's amazing riders and she has taken the time to share a little bit of her story with us all. Thank you, Anna, for bravely sharing and inspiring all of us in the process!
Could you share a little about yourself?
I am 24 years old. I was born and raised just outside of Washington DC and moved to Holland in 2018. The pets in my life are Etta, a golden retriever, and Chidi, a mini Aussie Shepherd.
Could you share a little about what brought you to Renew?
Before I moved here, I did some therapy work with horses and just love being with them – I really wanted to find a place to ride. Our family used to take trail rides when we went on vacations. My Mom found out about Renew through some family connections even before our move, and I knew right away that I wanted to become a rider!
How has what you do at Renew had a direct impact on your life?
Riding at Renew has given me something to look forward to every week, and it helps me feel okay even when other things in my life might not be going okay, or when things get hard. I just think it helps to give me a sense of calm sometimes, which is important because I struggle a lot with anxiety.
What is your favorite thing about Renew?
My favorite thing about Renew used to be Zen, and now it's Waui. I love spending time with and connecting with her each week!
If you could tell someone who has never come to Renew or is not familiar with horses one thing, what would it be?
Even if you're feeling really anxious and nervous about trying to ride, or coming to Renew, just give it a try. Everyone is so nice, and the volunteers will be right next to you, keeping you safe as long as you need them.
Anna's mom also graciously took the time to answer a few questions from a parent's perspective. Thank you, Amy!
Can you expand a little on what brought you to Renew?
We came to Renew because being with horses, and riding, is like therapy for Anna. Our hope for Renew – and what brought us here – is that it would be a place where Anna would feel connected, where she could gradually build skills and generate feelings of mastery to boost her confidence, where the sheer joy of the experience (with something to look forward to each week) would elevate her mood and sense of well-being. Anna has always connected with animals, more so than people! So Renew seemed a perfect fit for us.
What ways have you noticed growth or improvement in your rider since that first lesson?
Renew fills such an important gap in Anna's life, and she looks forward to Monday evenings so much. In fact, we recently strategically scheduled a series of medical surgeries so she would miss as few Monday lessons as possible! Riding at Renew connects Anna to the community and to people outside our home. Riding gives her motivation to exercise so she is better able to mount, dismount, and ride point. It has built her pride and confidence in what she and Waui are able to do together. Riding gives her a second family of people who care for her well-being, and motivates her to engage with people other than her family, despite it being very hard to do so. It's hard to explain, though I do know in my heart that Renew makes a meaningful difference in Anna's life. She's just happier when lessons are on-going and she's able to ride!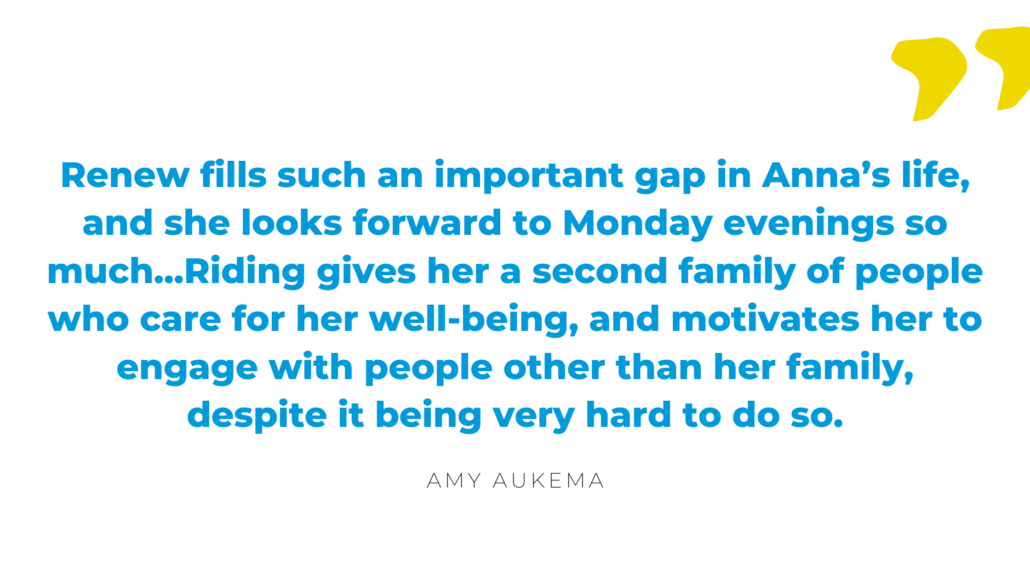 ---
Summer Speech Camp at Renew
We are excited to be offering another summer of speech camp at Renew! There will be three sessions of speech camp this summer that provide an invaluable experience for children and adults with communication needs. If you would like more information about what Summer Speech Camp is all about, and details on how to register, visit the web page here.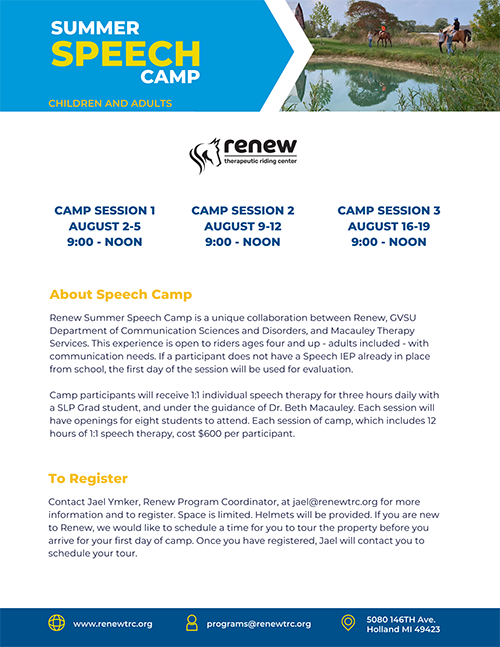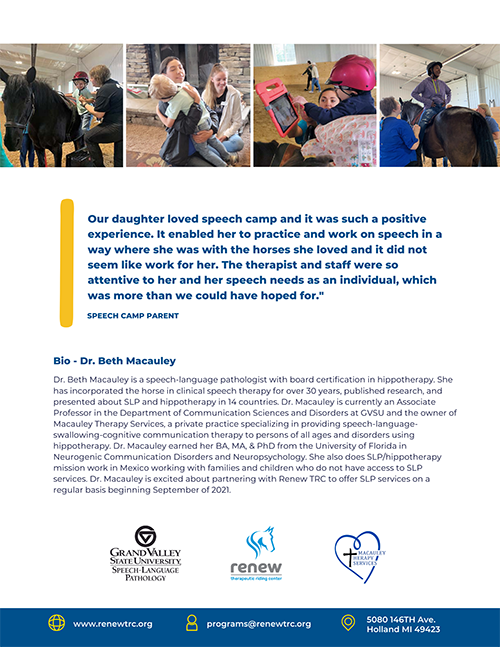 ---
Renew Students Participate in State Horse Show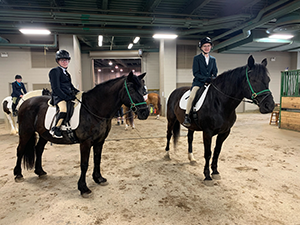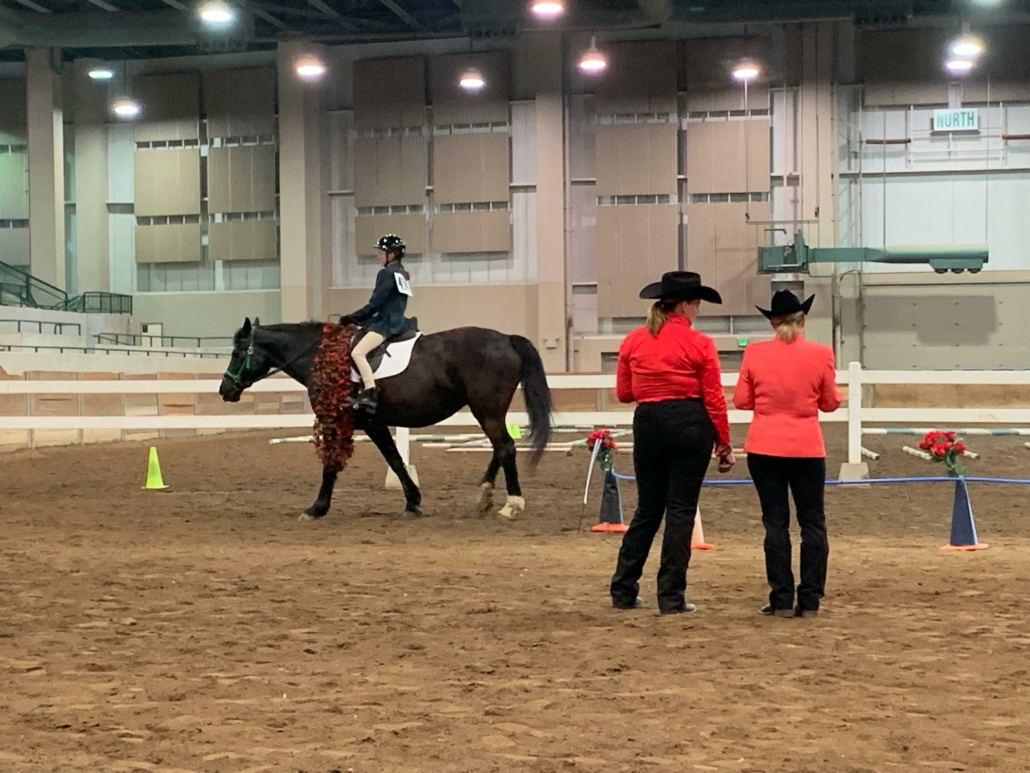 Renew's Program Manager, Shaina, sat down to share all about this special day for a couple of our riders.
Could you share a little about the recent show two Renew students were able to participate in?
Renew has had the privilege of taking our riders and horses to shows at various locations around Michigan and Indiana for about 10 years and we are eager for these great experiences to continue! We believe in the great value that these show experiences provide. They offer wonderful opportunities for competition and sport, meeting new friends, developing greater skill, and most importantly – to have fun and cherish our horse partners in a new environment!
The latest show we were able to attend took place at the MSU Agriculture Pavilion in East Lansing on Friday, May 20, with two riders and two horses. We were approached by Tom Powers, an owner of a beloved past Renew horse, Boone, who served with us when Renew was located at the Rusty Spurs barn. Tom is passionate about creating opportunities for equestrians with disabilities and offered to graciously host us, alongside another therapeutic riding barn by offering three show classes to our riders. Our riders were able to compete in an equitation group class, demonstrate a pleasure pattern, and ride a trail course against six other riders from another TR center from the area. Our riders were placed and took home ribbons and a trophy…along with memories of competing with friends during a well-known AQHA show. We are grateful to Tom for the opportunity, and it sounds like there will be many more to come thanks in part to his efforts.
How does participating in a show like this impact our riders?
Confidence, opportunity, and lasting impact to name just a few. At our most recent show, it was a joy for Emily and I to stand next to our riders while they waited to hear the results of their placing as it offered the chance for us to witness something special. The riders were not only excited for their own accomplishments and how their ride went, but it seemed they were most focused on their friends' achievements. They gave each other sincere high fives, words of encouragement, thumbs up, and big smiles throughout the entire event and that made our hearts all so happy.
Expanding on that, why is it important for Renew to provide these opportunities for our students?
We have been able to witness first hand the importance that the horse show opportunities offer into the lives of our riders of all ages and abilities. The opportunity to learn from others in competition, and to compete themselves, fosters greater belief in themselves and their horse. Although the ribbons are fun to receive, we know that the lasting memories and the sense of achievement that comes along with the show experience are invaluable. It's hard to express in words the sense of pride and joy we get to see. We hope all of our riders have the chance to attend a show and that's why we aim to make more opportunities in the future, such as our Renew Celebration Horse Show on Saturday, July 30th this summer!
Could you share a special moment from the day?
At the conclusion of the show, the eight riders, their families, and instructors were invited to pizza together. We had the privilege to hear from a professional equestrian about his experiences while training and competing with horses on various large scale platforms, like Congress (the world's largest single breed horse show). It was encouraging to hear of the ways he chose to persevere through the push-back he received as an equestrian with a disability, and how he encourages our riders to set goals and to take them seriously and chase them down!
---
Stay tuned for more details about a special event…
Renew is very excited to partner with Holland Western Horse Park this summer to offer an inclusive show. Renew riders will participate alongside other horse enthusiasts from the community in the first-ever Renew Celebration Horse Show. The show will be held at Holland Western Horse Park on Saturday, July 30. Make sure to check our website for event details.
We hope to see you there as a competitor or just to cheer on the participants!
---
Horse in the Spotlight
// Nobie //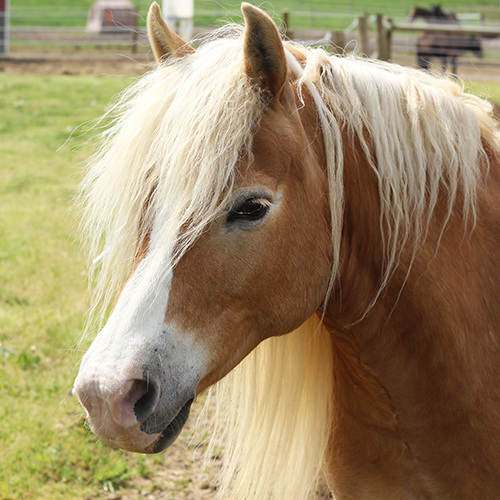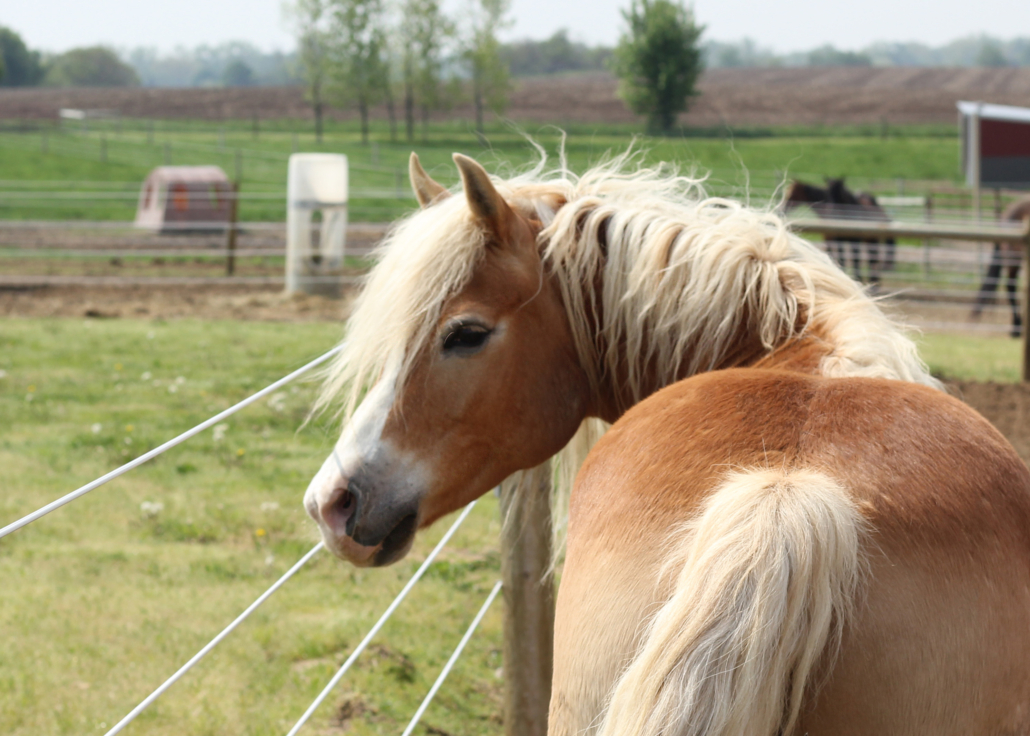 Here are some of Nobie's biggest fans sharing what they love him.
"Nobie is an over-thinker, like me and is always thinking and wondering; he is THE Fabio of the horse world."
Renew Rider
"Nobie is fun and strong."
Renew Rider
"Nobie listens the first time I ask him to do something; he's fun to ride!"
Renew Rider
If you would like more information on how you can become a Horseshoe Partner and sponsor Nobie, or another horse in the Renew herd, please email Cassie Pelon at communications@renewtrc.org.
https://renewtrc.org/wp-content/uploads/2022/06/Anna-square-500-at-72dpi.png
500
501
melissa
https://renewtrc.org/wp-content/uploads/2018/11/RenewLogoHorizontalFINAL2c.png
melissa
2022-06-02 13:25:18
2023-11-04 17:05:09
May 2022 Update