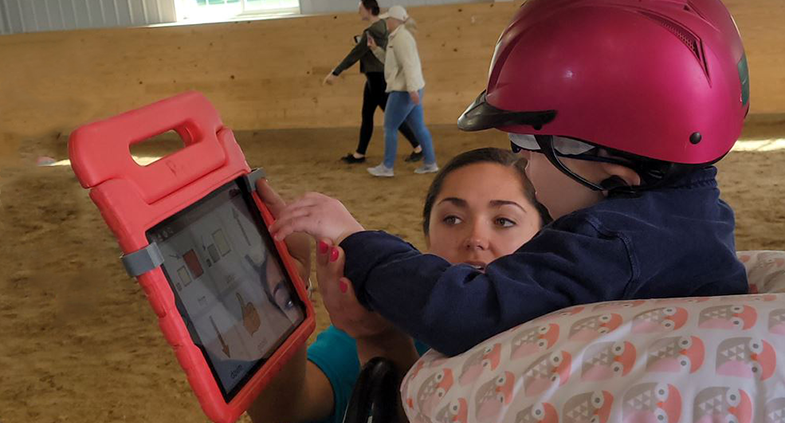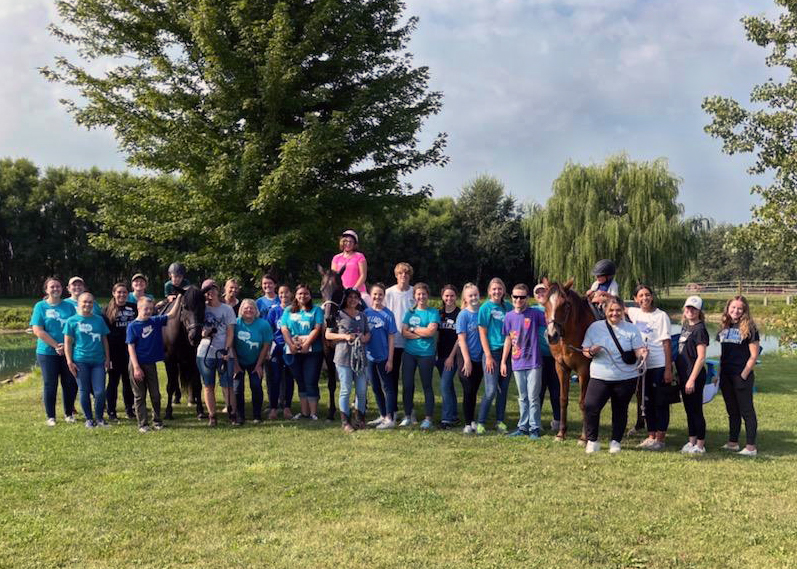 Summer Speech Camp
We are excited to be offering another summer of speech camp at Renew! There will be three sessions of speech camp this summer that provide an invaluable experience for children and adults with communication needs. Each session has openings for eight campers. If you would like more information about Summer Speech Camp, and details on how to register, visit the web page here.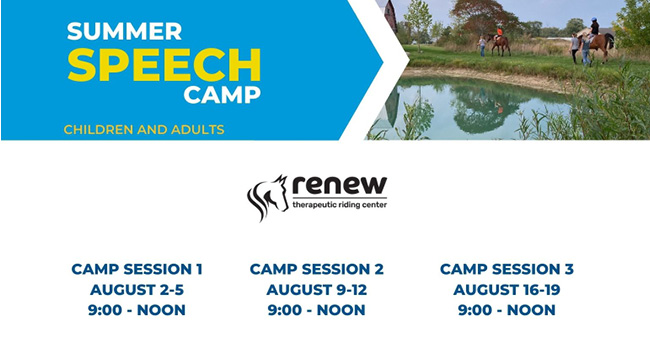 ---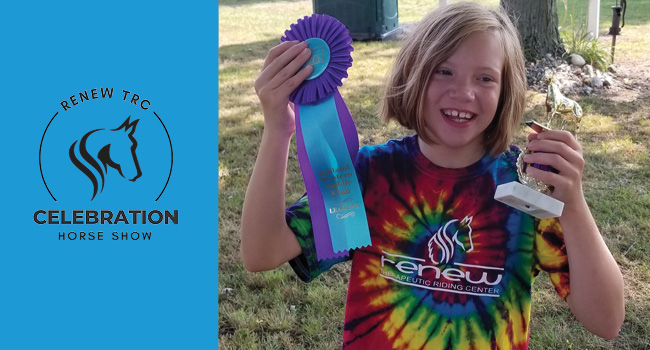 Renew Celebration Horse Show
The first-ever Renew Celebration Horse Show brings local horse enthusiasts in the community together with Renew riders for an inclusive day of showing and riding.
"We have witnessed first hand the importance that horse show opportunities offer into the lives of our riders of all ages and abilities," Shaina, Renew's Program Manager, explained. "The opportunity to learn from others in competition, and to compete themselves, fosters greater belief in themselves and their horse."
All horse enthusiasts in the area are invited to join Renew students for a fun day of showing and riding at the beautiful Holland Western Horse Park. There are a variety of classes available, including fun classes. The extreme trail course will also be open for riders. If you preregister before July 1st, there is an 'Early Bird Bundle' that includes unlimited classes, access to the extreme trail course, and a free t-shirt.
Even if you won't be riding or showing, we would love to see you at HWHP to help cheer on the riders and enjoy the fellowship and competition.
The proceeds from this inclusive show will go to further the mission of Renew and bring the benefits of equine assisted services to our community. If you have any questions, feel free to email Cassie Pelon at communications@renewtrc.org.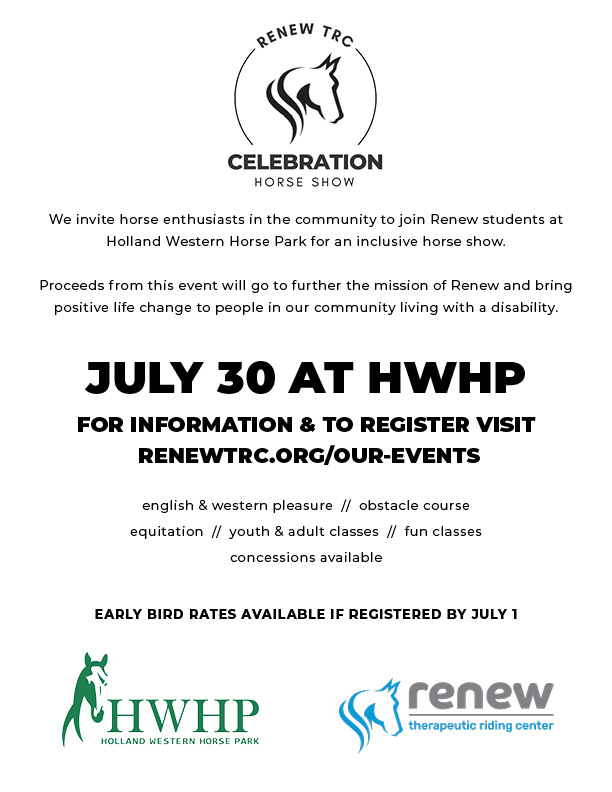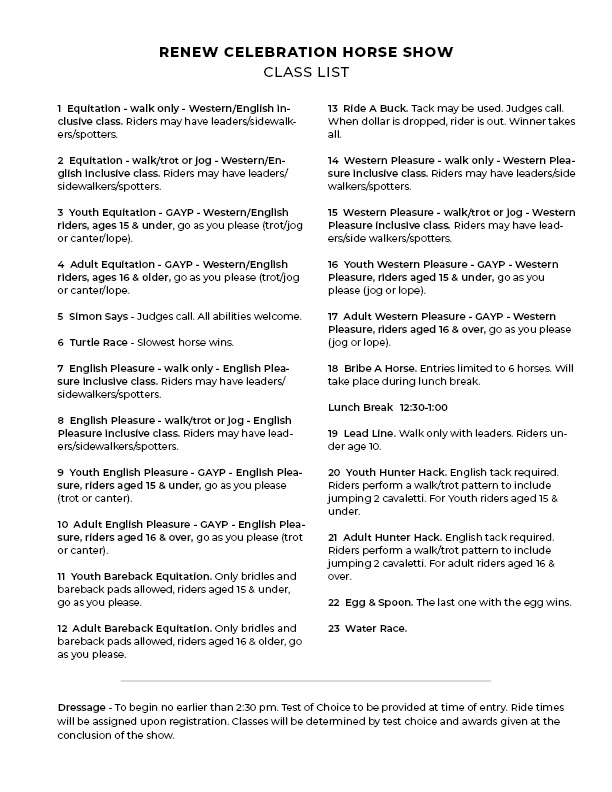 ---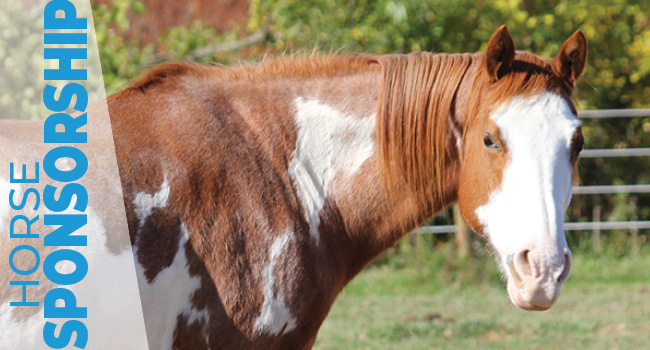 There are many ways to get involved at Renew and help bring healing and hope to people in our community. One of those ways is by becoming a Horseshoe Partner by sponsoring a horse in the Renew herd. Our goal in 2022 is to secure a sponsor for each one of our equine ministry partners.
Our horses are co-laborers in fulfilling our mission. Each horse brings different things to the table and helps each of our riders make great gains towards reaching their goals. Each Horseshoe Partner will be matched up with one horse and the donation will support their care by helping to provide things like hay, grain, and farrier and veterinary service. You can choose to sponsor a horse for a full year ($4,000), half a year ($2,000), or a quarter of a year ($1,000).
Sponsor a horse as a group (4H club, equestrian team, family, etc.), sponsor a horse as an individual, or sponsor a horse as a gift/in honor of a loved one. When a horse reaches the equivalent of a full year sponsorship, those sponsoring the horse will receive a VIP photo shoot with "their" horse. The images from the photo shoot will be given as a keepsake and expression of our gratitude.
If you would like more information on how you could sponsor a horse in the Renew herd, please email Cassie Pelon at communications@renewtrc.org.
Fitz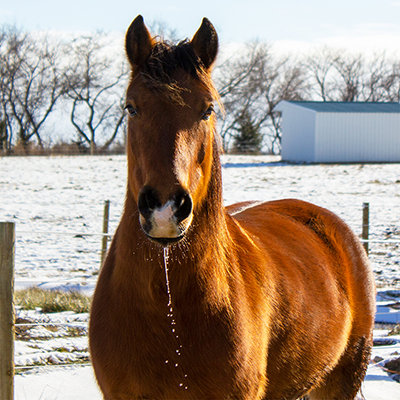 Fitz is quite a comedian and a favorite of many riders at the farm. Fitz currently has a 1/4 year sponsor! Thank you to the family that chose to be his Horseshoe Partner!
To get Fitz fully funded for a year, would you consider becoming one of his Horseshoe Partners?
Horse Spotlight: Waui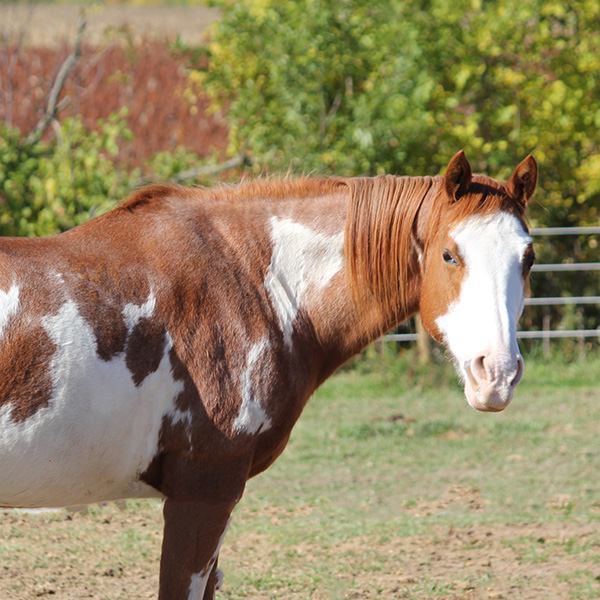 In the spotlight is the ever-patient and dependable Waui. Waui is a senior gal who has been there and done that. She takes great care of her riders and is pretty fun to look at with her loud markings. A couple of her riders had some things to share about why they love Waui.
"Waui is sweet and well behaved!"
"Waui and I have the same gorgeous flaming red hair color."
https://renewtrc.org/wp-content/uploads/2022/06/Ben-go-down-aac-small-for-blog.png
561
785
melissa
https://renewtrc.org/wp-content/uploads/2018/11/RenewLogoHorizontalFINAL2c.png
melissa
2022-06-30 13:46:14
2022-07-20 14:14:26
June 2022 Update