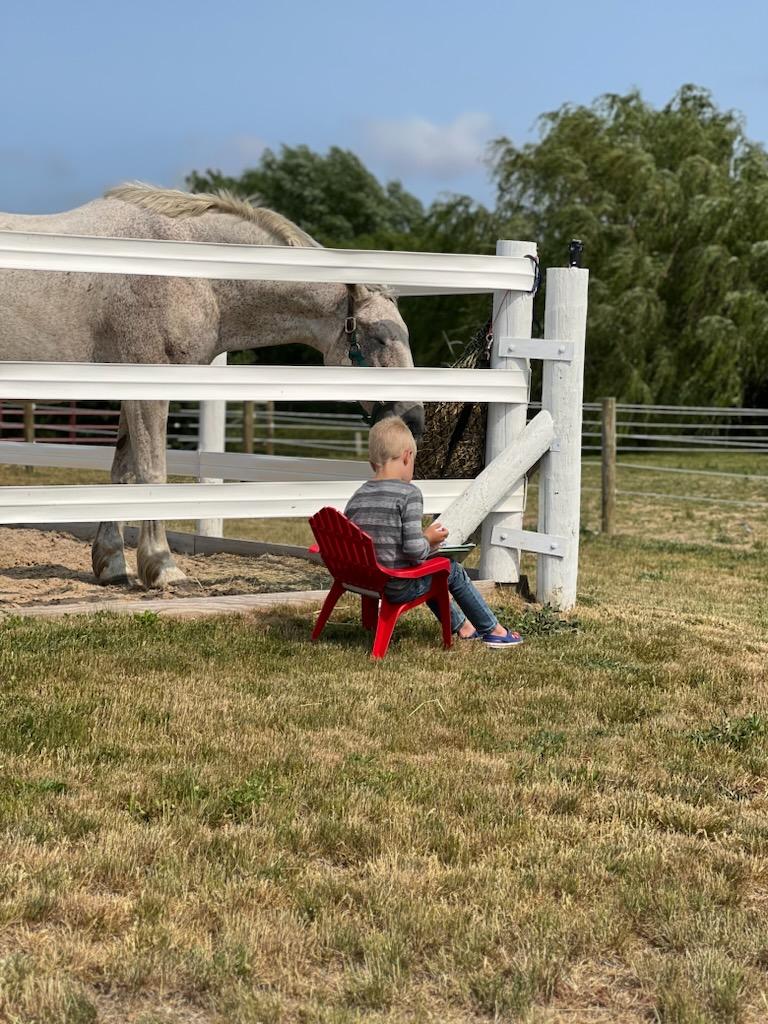 Summer Program Update
Session 3 of therapeutic riding lessons wrapped up at the beginning of June. With the start of summer comes warmer temperatures and a change of schedules for many, including our students and volunteers. To accommodate vacation schedules and to allow for new groups and individuals to receive the benefits of equine assisted services, Renew offered special programming during the final three weeks of the month and will kick off a shortened, four week therapeutic riding session in July. It was such a blessing to welcome new students to the farm and serve in different ways. Speech Campers returned, as well as two weeks of Pony Pals camp which serves children who are in foster care or who have been adopted. Renew Reading Wranglers kicked off this month and welcomed young readers to the farm every Wednesday evening.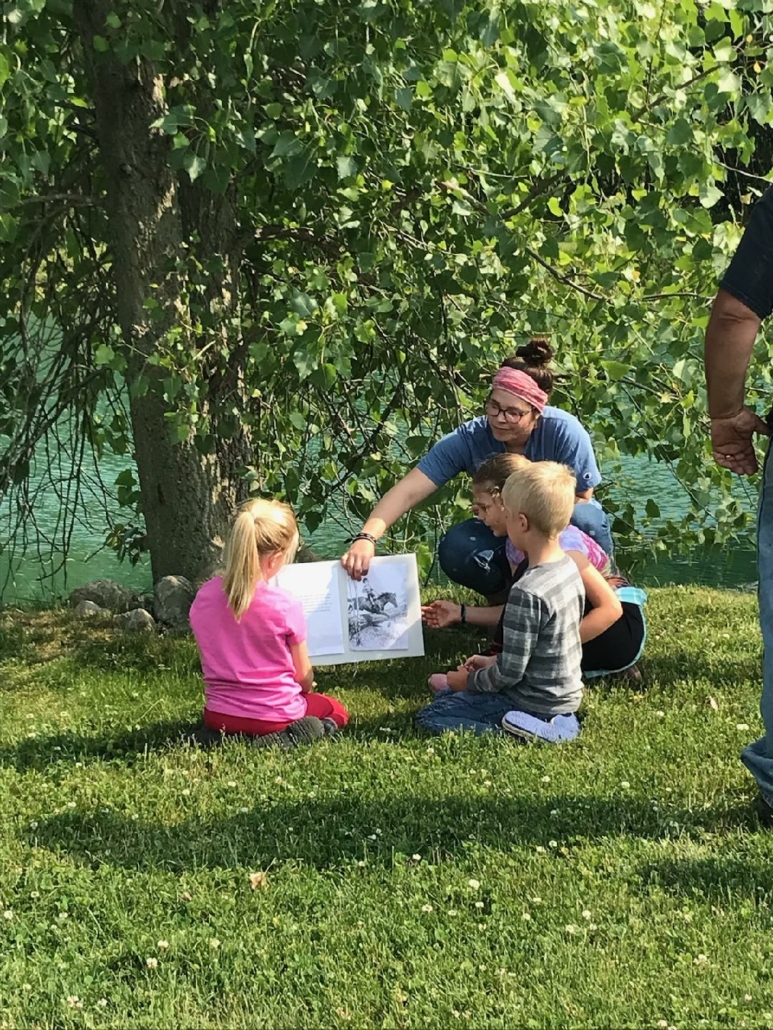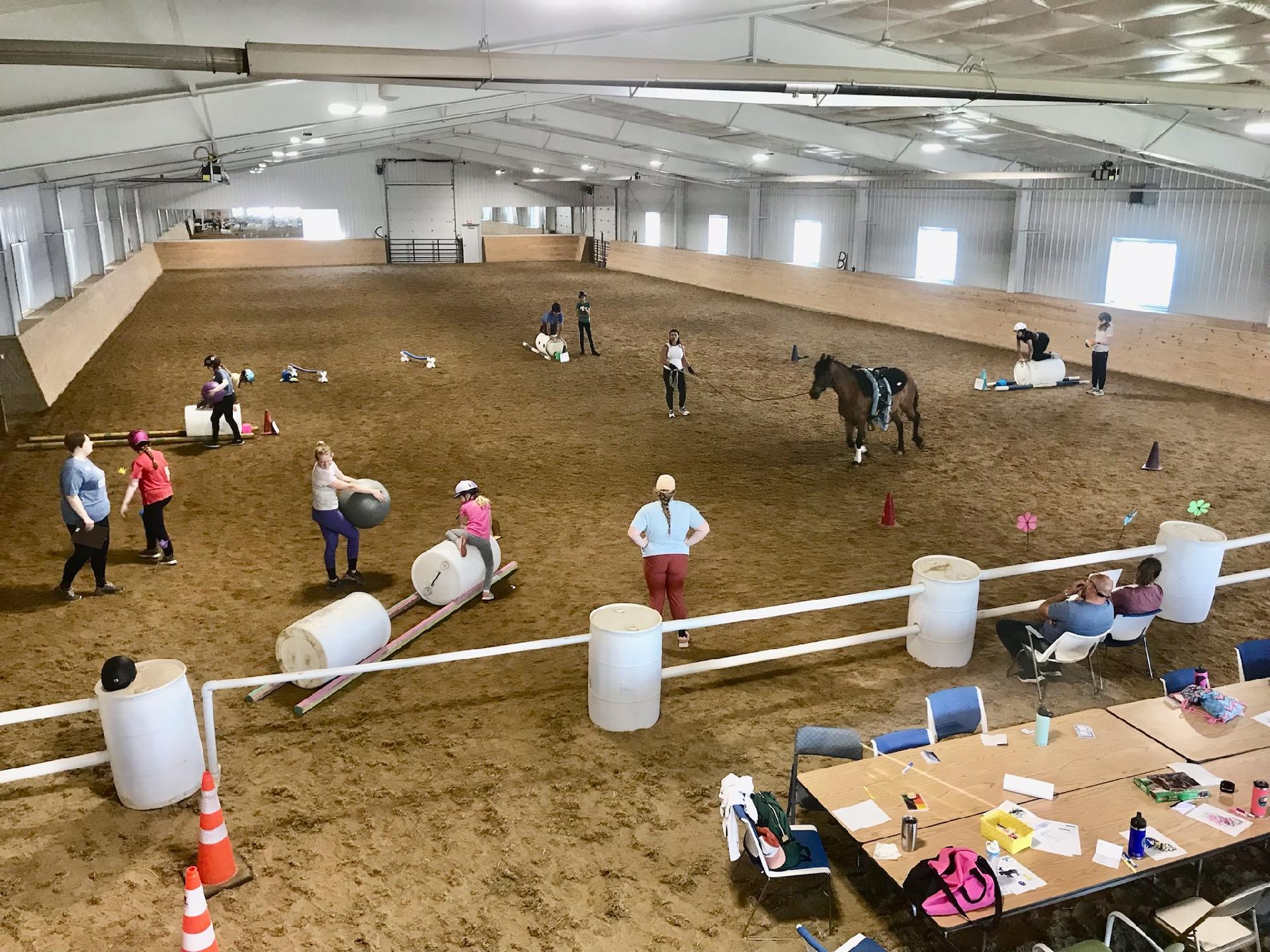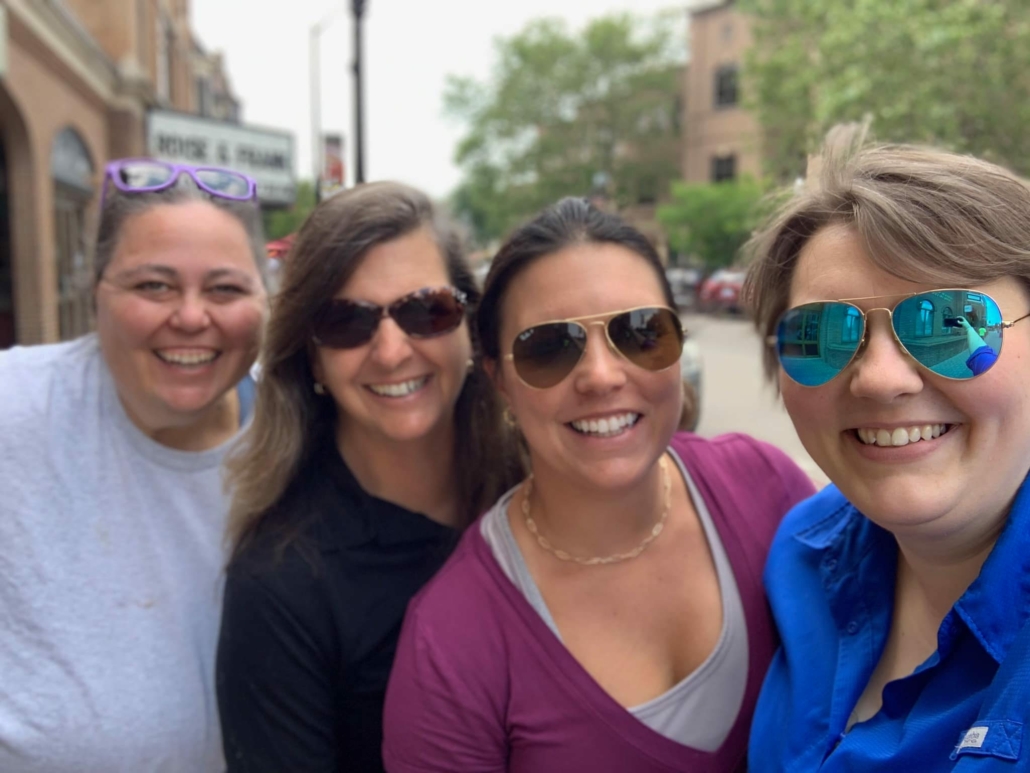 Special thanks to Amanda and Ashley, professionals in the industry from out of state, who visited Renew to help launch our Interactive Vaulting Camp. It was so great to have you and we could not have offered this service without your help. Thank you!
---
Fox17 Morning Mix recently highlighted Renew Reading Wranglers
Scroll to 2:15 in the video to take a look!
---
Shoutout to Our Amazing Volunteers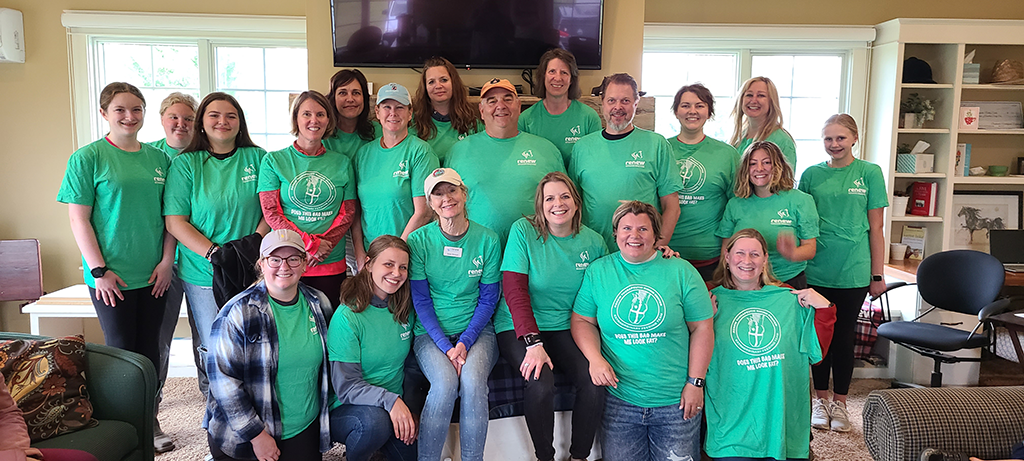 Renew Feeding Crew
These amazing people are part of the dedicated feeding crew at Renew. They come rain or shine, sleet or snow, heat wave or cold snap, twice a day, everyday to make sure that the herd is not only fed, but that they are all healthy and happy. Thank you for your commitment to the mission at Renew! If you would like information on what this role entails or you'd like to be a part of this awesome crew, reach out to Ellis at equine@renewtrc.org.
---
Staff Spotlight: Amber Bos
Renew currently has 14 staff members. Some you may have known for years, and others you might only know by name. To help you get to know the staff a bit better, each month we will be featuring a staff member in our Staff Spotlight. This month's spotlight is one of our Instructors, Amber Bos.
Hello! Here are some details about me. I was born and grew up here in the West Michigan. I have enjoyed dressing up with my family in Dutch costumes each Tulip Time for as long as I can remember. When it comes to outdoors, I love all things from hunting, fishing, hiking, running, and riding horse. I am an extremely family oriented person and am super close to my parents and extended family. Some of you may have met my mom as she recently started volunteering at Renew. I participated in 4H in Ottawa county for 10 years growing up and continue to participate by being a 4H leader. I grew up with all sorts of animals including dogs, cats, chickens, rabbits, and of course horses. I currently have a golden retriever, Oakley, who will be 3 in October. I recently became engaged and plan to get married this coming August to my high school sweetheart. I graduated from Baker College of Muskegon in December of 2021 with an associates in occupational therapy and received my license and certification the following spring of 2022. I have been working in a skilled nursing facility part time and teaching at Renew Tuesday and Wednesday afternoons, and Thursday morning as I also received my CTRI certificate in the spring of 2022. I am so blessed to work at Renew and truly appreciate and love all my interactions with fellow staff, volunteers, and of course our riders.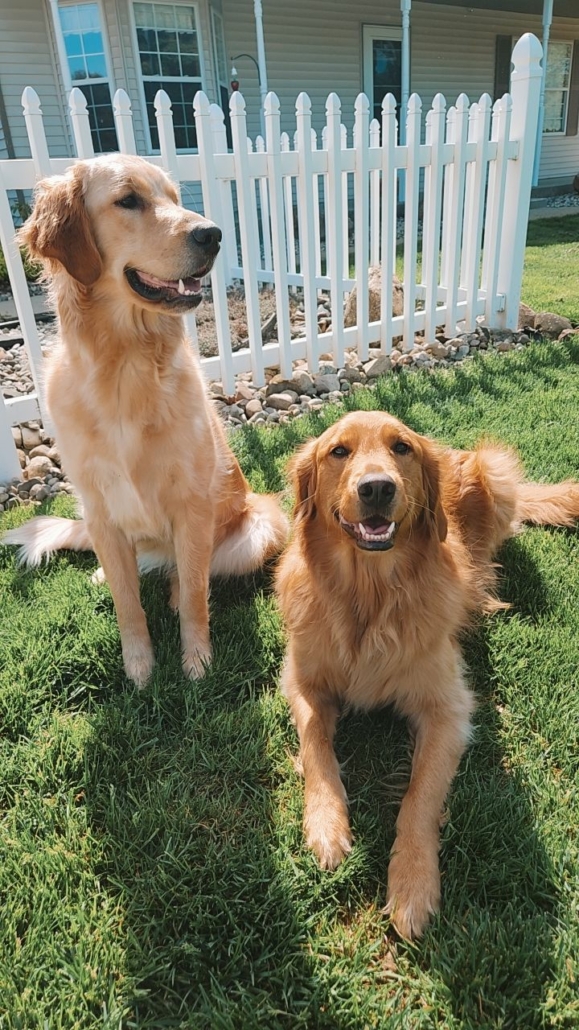 ---
Hoofbeats of Hope
Renew Therapeutic Riding Center is offering the opportunity for adults to attend Hoofbeats of Hope, which incorporates unmounted work with horses to help facilitate the grieving process for those who have experienced the death of a loved one. If you would like more information about Hoofbeats of Hope, or would like to register, please contact Shaina Strikwerda at programs@renewtrc.org.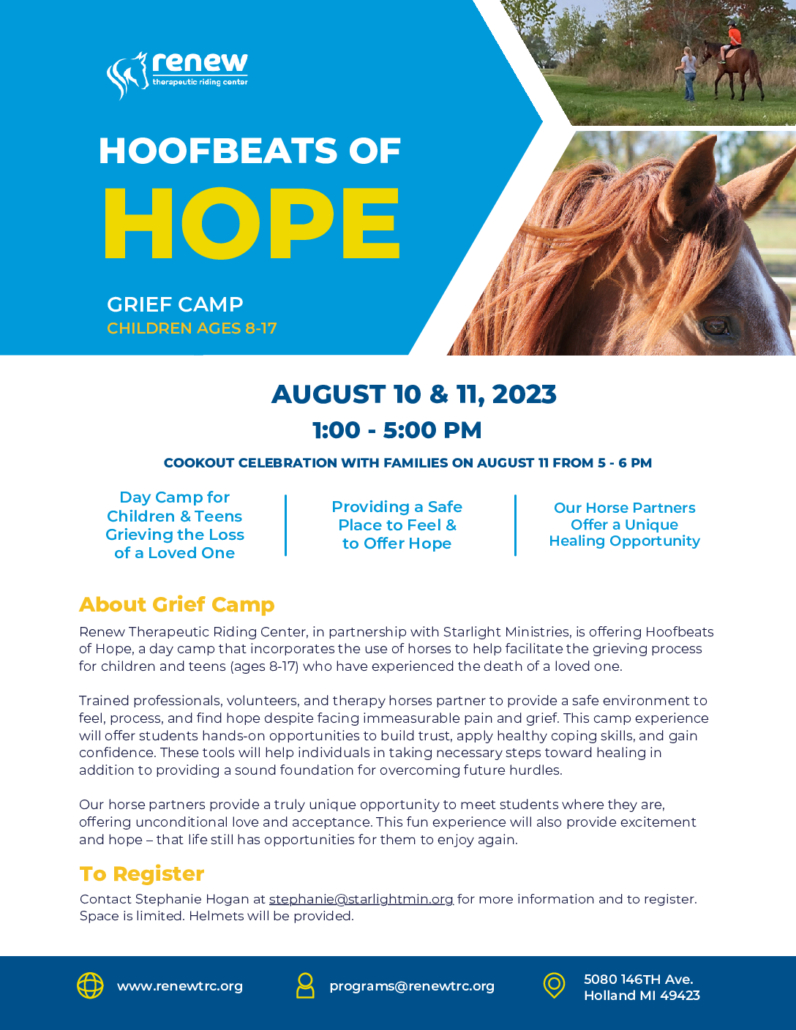 ---
You're Invited!
The second annual Renew Celebration Horse Show brings local horse enthusiasts in the community together with Renew riders for an inclusive day of showing and riding. All abilities welcome and show clothes not required. We would love to see you there, whether you're there to compete or want to help cheer on the riders. We hope to see you there!
Renew Celebration Horse Show
At Holland Western Horse Park
Saturday, July 29, 2023
Registration begins at 7:45A; Show begins at 8:30A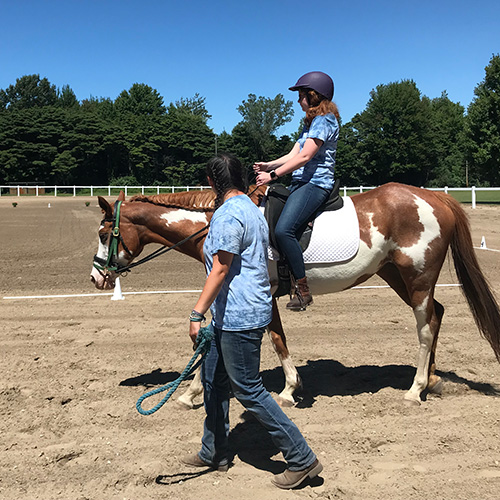 https://renewtrc.org/wp-content/uploads/2023/06/6905615724114942615.jpg
1024
768
melissa
https://renewtrc.org/wp-content/uploads/2018/11/RenewLogoHorizontalFINAL2c.png
melissa
2023-06-23 11:52:18
2023-06-23 11:52:20
June 2023 Update