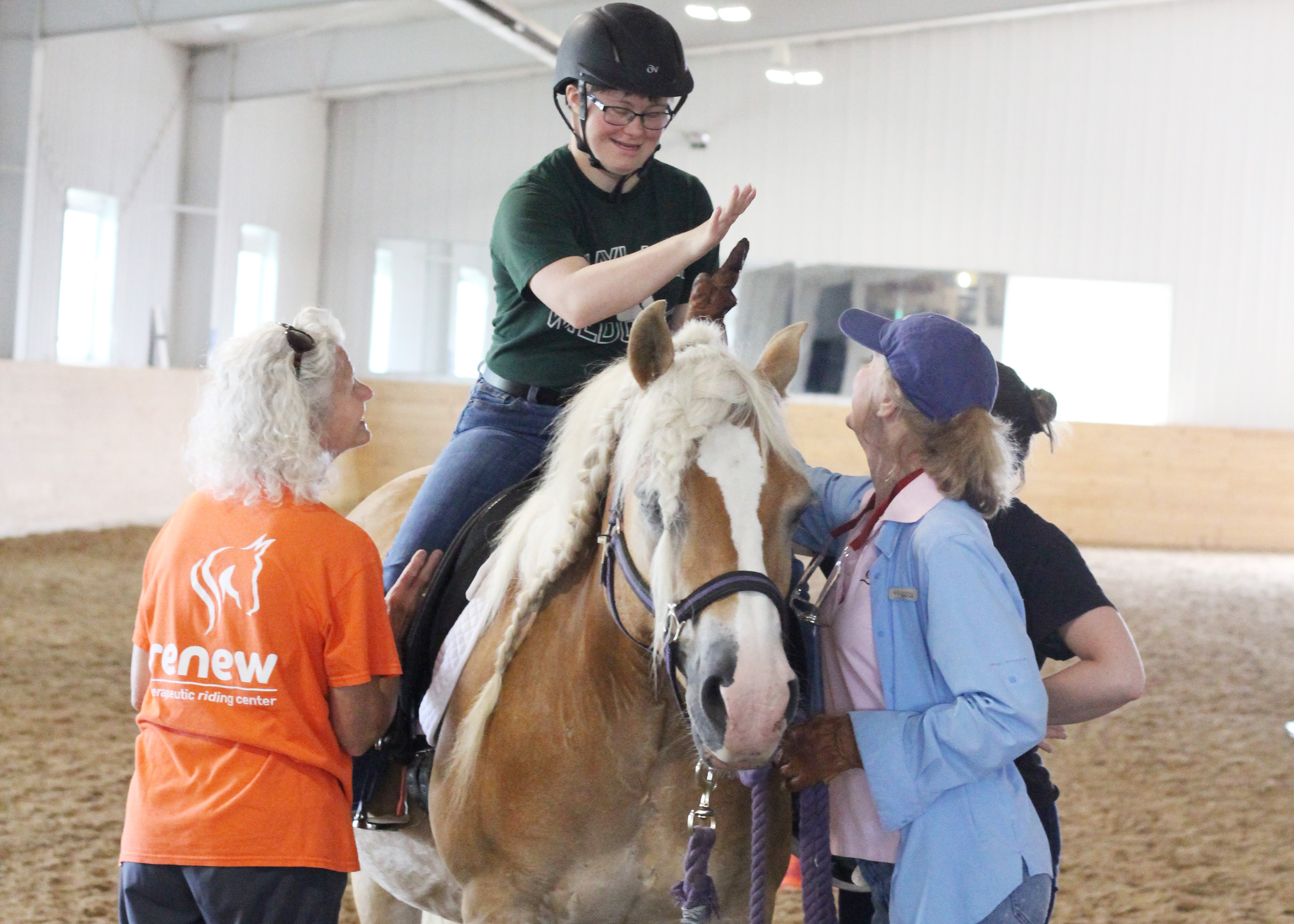 Summer Program Update
As we recognize that summer is speeding by, we are relishing every minute of sunshine and warm weather. Students have been working hard during Session 4 of therapeutic riding lessons and there is much to celebrate. As we say goodbye to July and welcome in August, the farm will welcome many new faces as we launch another round of special programming. We're looking forward expectantly to what God will do in the lives of each person that comes to the farm.
There are also a few special events coming up and we would like to extend you an invitation. Please reach out with any questions.
Renew Celebration Horse Show
Saturday, July 29 at the Holland Western Horse Park
Everyone is invited; Registration begins at 7:45am; Spectators are encouraged to attend and there is no admission fee; Concessions will be available.
Click here for more detailed information.
Fall Festival
Saturday, September 23, at Renew TRC from 1:00-3:00pm
Everyone is invited to a day of free family fun on the farm.
There will be snacks, barrel train rides, fish feeding, miniature horses, face painting, and more.
Blessing of the Horses
Saturday, September 23, at Renew TRC from 3:00-3:30pm
Everyone is invited to this annual event to commission and pray over our herd of therapy horses.
Renew Roundup BBQ Dinner Fundraiser
Saturday, September 23, at Renew TRC from 5:30-8:00pm
Tickets will go on sale mid-August.
This annual event is one you won't soon forget. Invite your friends and family, or treat your staff to a night of amazing food and drinks, special student riding demonstration, live music, and line dancing. Even if you are not able to attend in person, there will be ways to get in on the fun virtually and support the life-changing mission of Renew.
Check the event website for tickets and information.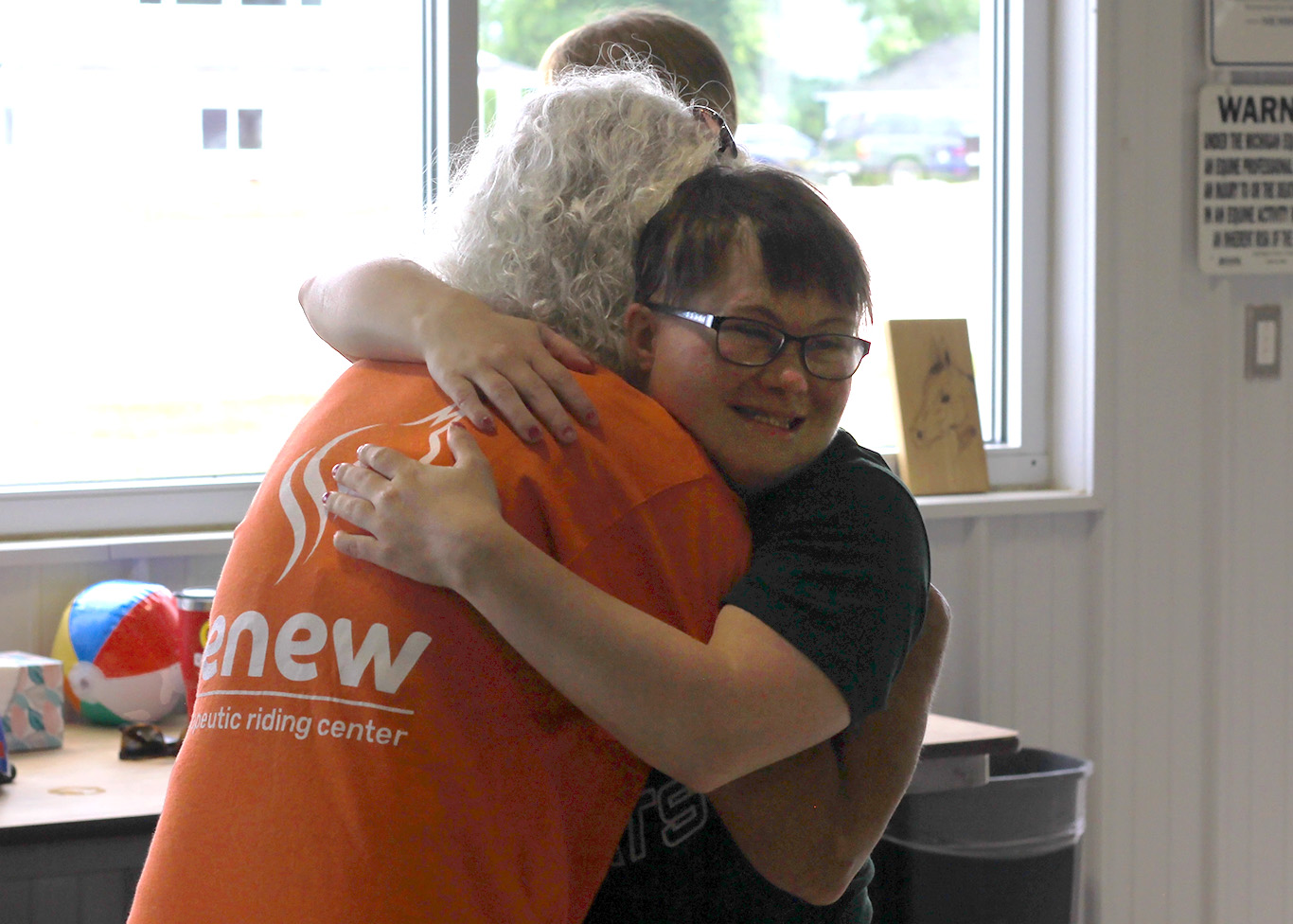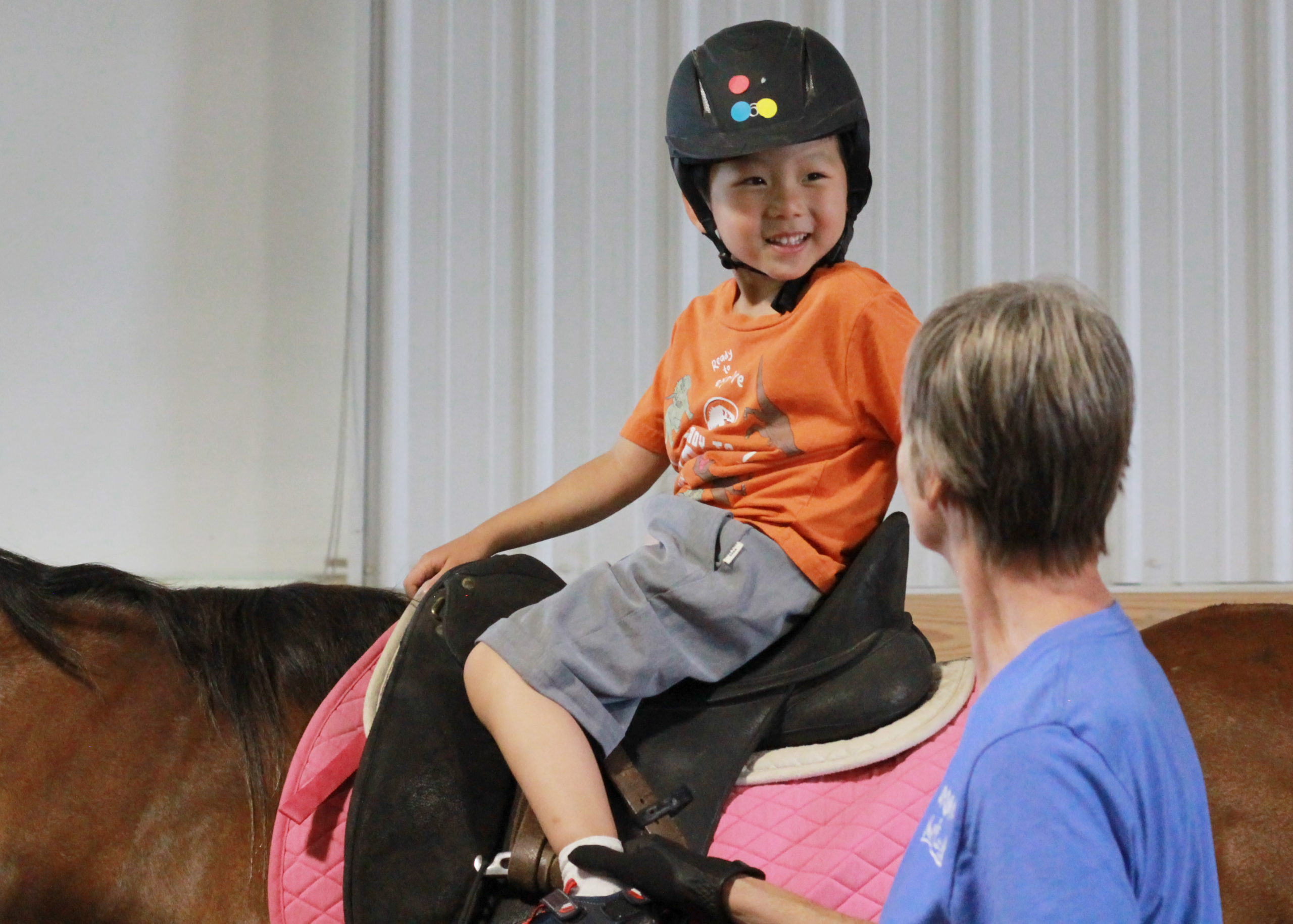 ---
Shoutout to Our Amazing Students
Students Participated in a Recent Show at Holland Western Horse Park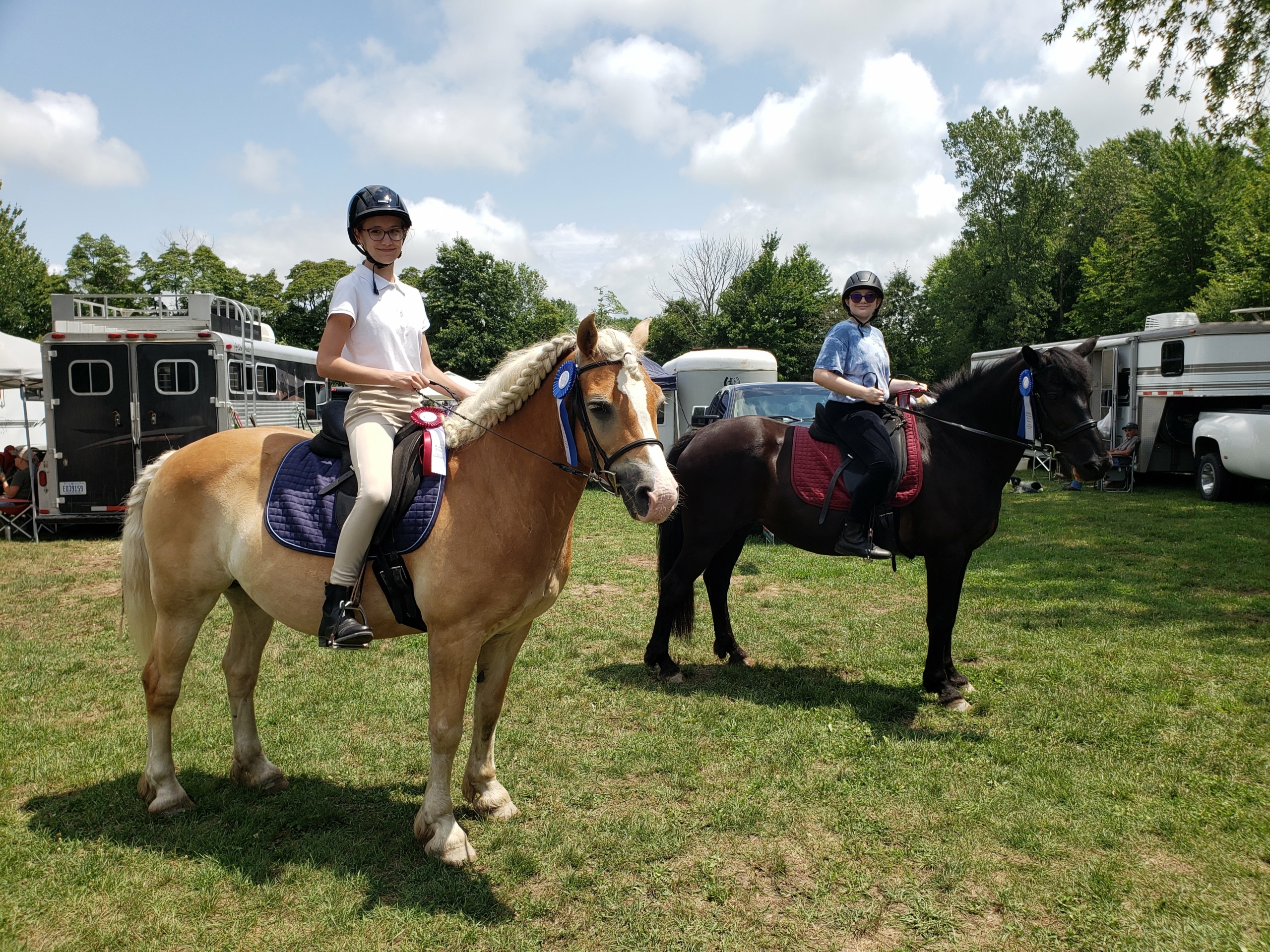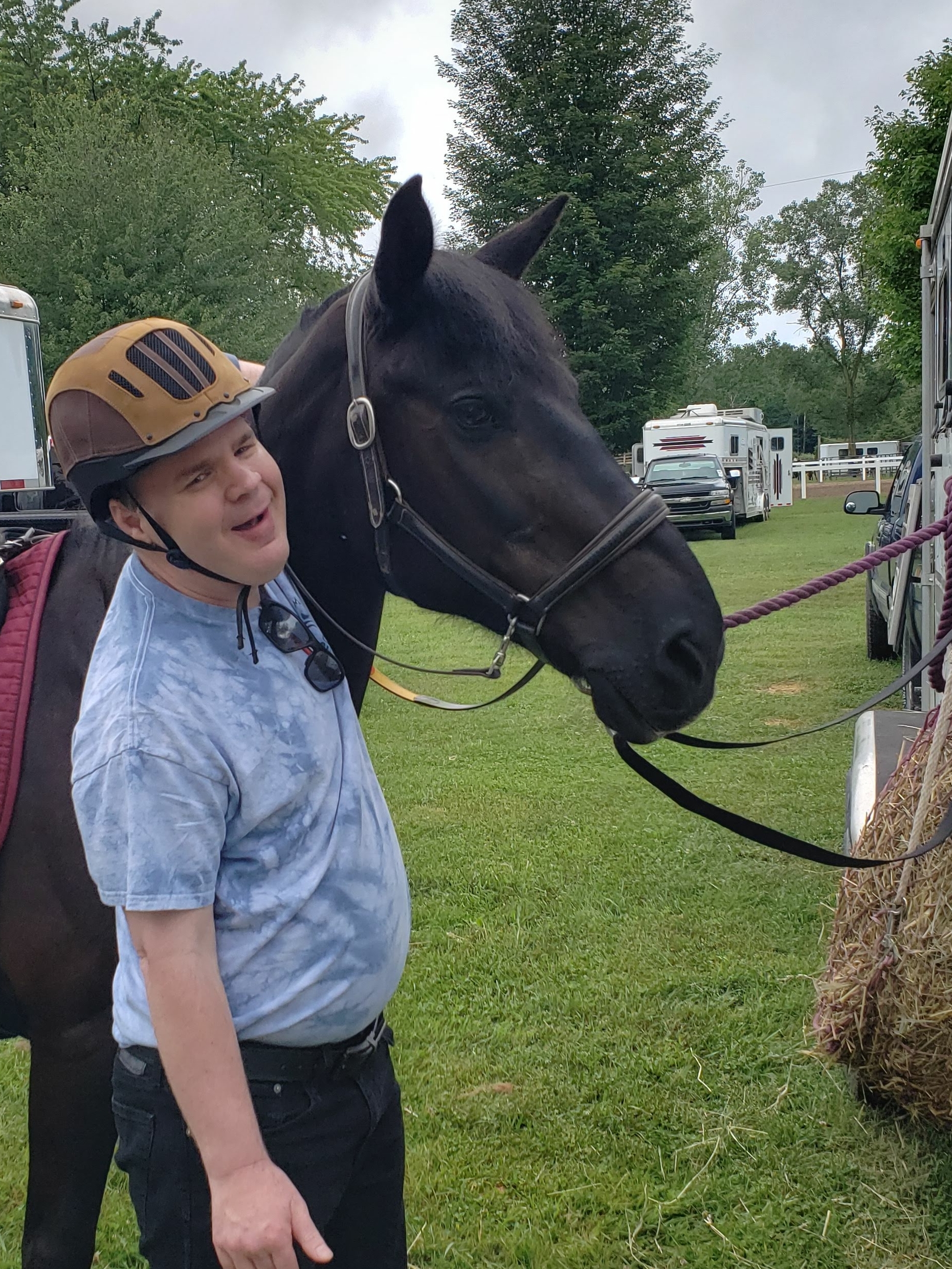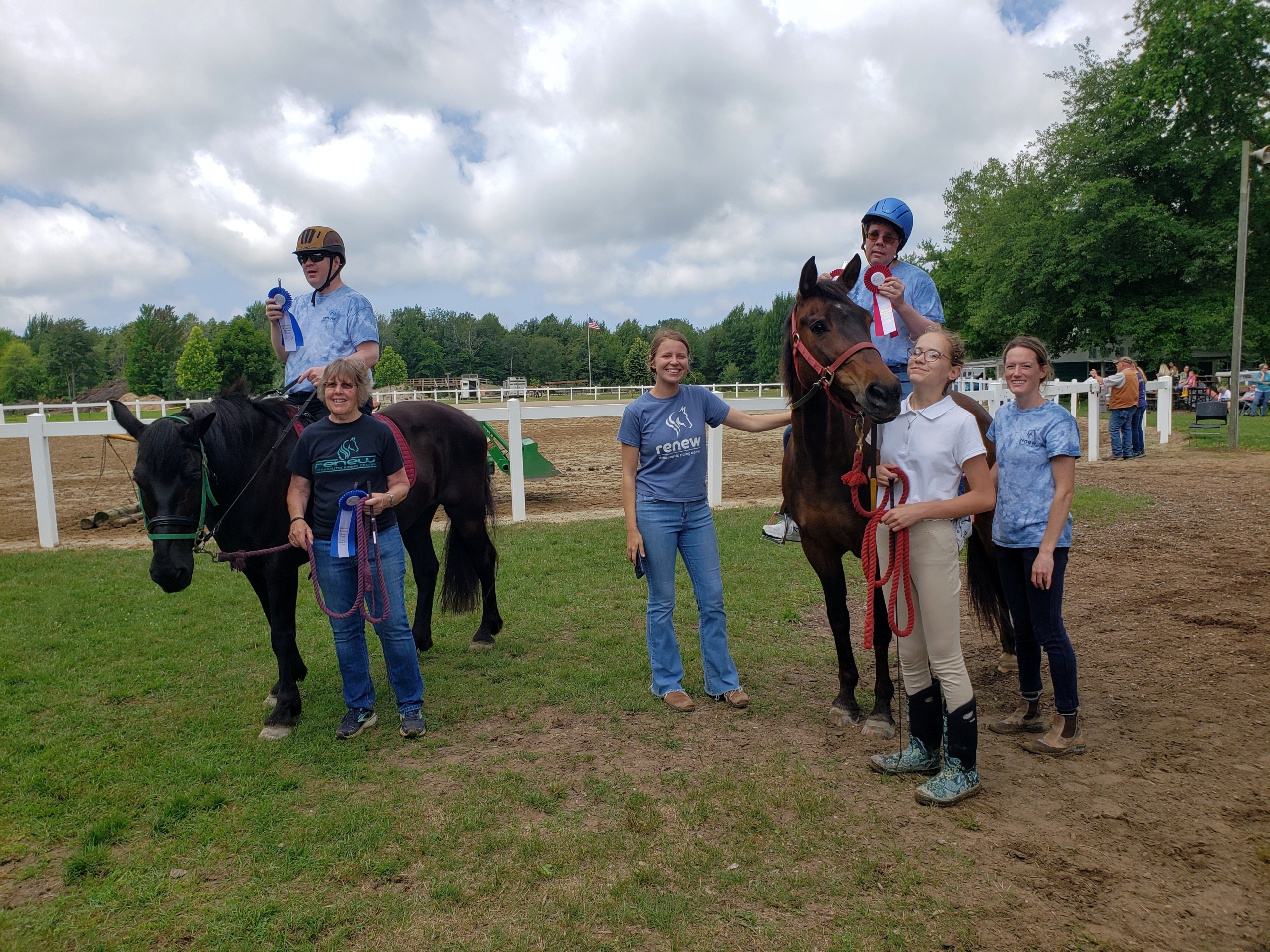 ---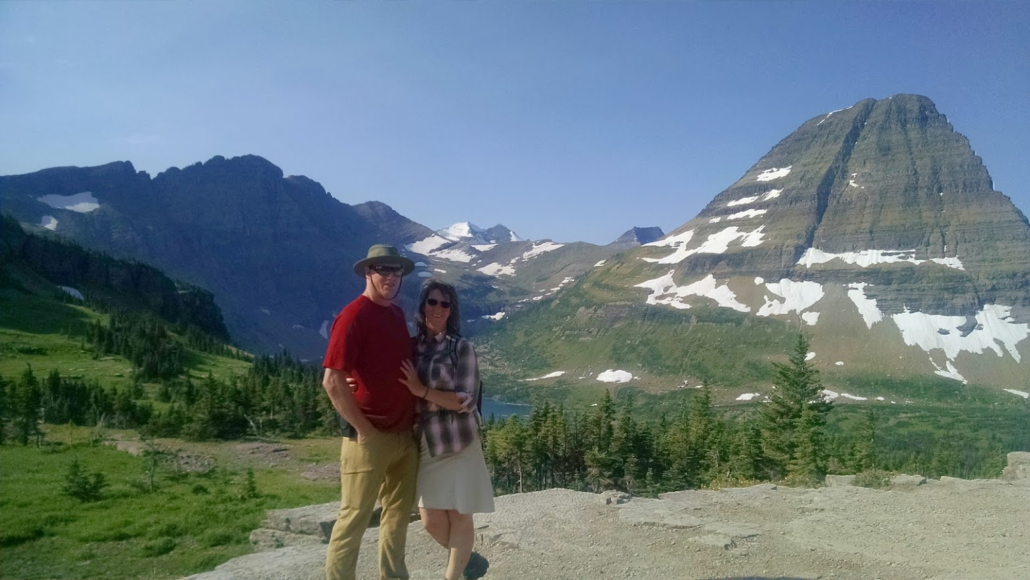 Staff Spotlight: Teresa Harrington
Renew currently has 14 staff members. Some you may have known for years, and others you might only know by name. To help you get to know the staff a bit better, each month we will be featuring a staff member in our Staff Spotlight. This month's spotlight is one of our Instructors, Teresa Harrington.
In the spirit of reading and writing which have defined my life, I have written this Bio-Poem to introduce myself to the Renew community.
Teresa or Terri or Momma T

My titles are Sunflower Sister,  Windchime Lady, Neighborhood Social Butterfly, Growing in Christ Gardener, and Dancing Fool.

I've traveled by bicycle to enjoy community at the Farmer's Market, by Harley Davidson around Lake Michigan with my husband Rob, by train to see my sister Jacki in Seattle, by kayak under the Mackinac Bridge,  by car to visit family in Philly, and by air to wander the luscious hills of Ireland. 

My vacations look like hiking to a waterfall in Montana 
    or kayaking the Chain of Lakes
       or flying anywhere my son and his family are in their Air Force life
          or hanging with my daughter in the thumb part of this mitten state.

Ionia is my first home - proud Ionia H.S. Bulldog and Montcalm Community College graduate cuz - I didn't wanna leave home.

Holland is my heart home - GVSU graduate, recently retired 30 year 8th grade English teacher, current CTRI at Renew - and I still don't ever wanna leave.

My parents taught me how to live a full life 
     and to be grateful
     and to give abundantly.  
Dad brought me to daily reading The Word and Mom brought me to anything horses.  Both are life altering experiences.

My 8 year old and 3 year old grandchildren wear me out.  'Nuff said.  Heart FULL! So, SO blessed!

I love Jesus and am grateful for all of the blessings I've experienced in life's mountain tops and valleys.  

And I'm so very excited for whatever is coming next!

Harrington, 2023  (Team Hercules)
I first came to Renew Therapeutic Riding Center to find healing through volunteering with horses after my mom died. Gradually, I learned to love the staff and riders and volunteers as much as the horse interactions. Now, I see it all so tightly interwoven and am so grateful to be a part of what God is doing at Renew.
Thank you all for welcoming me so warmly!
---
Hoofbeats of Hope
Renew Therapeutic Riding Center is offering the opportunity for adults to attend Hoofbeats of Hope, which incorporates unmounted work with horses to help facilitate the grieving process for those who have experienced the death of a loved one. If you would like more information about Hoofbeats of Hope, or would like to register, please contact Shaina Strikwerda at programs@renewtrc.org.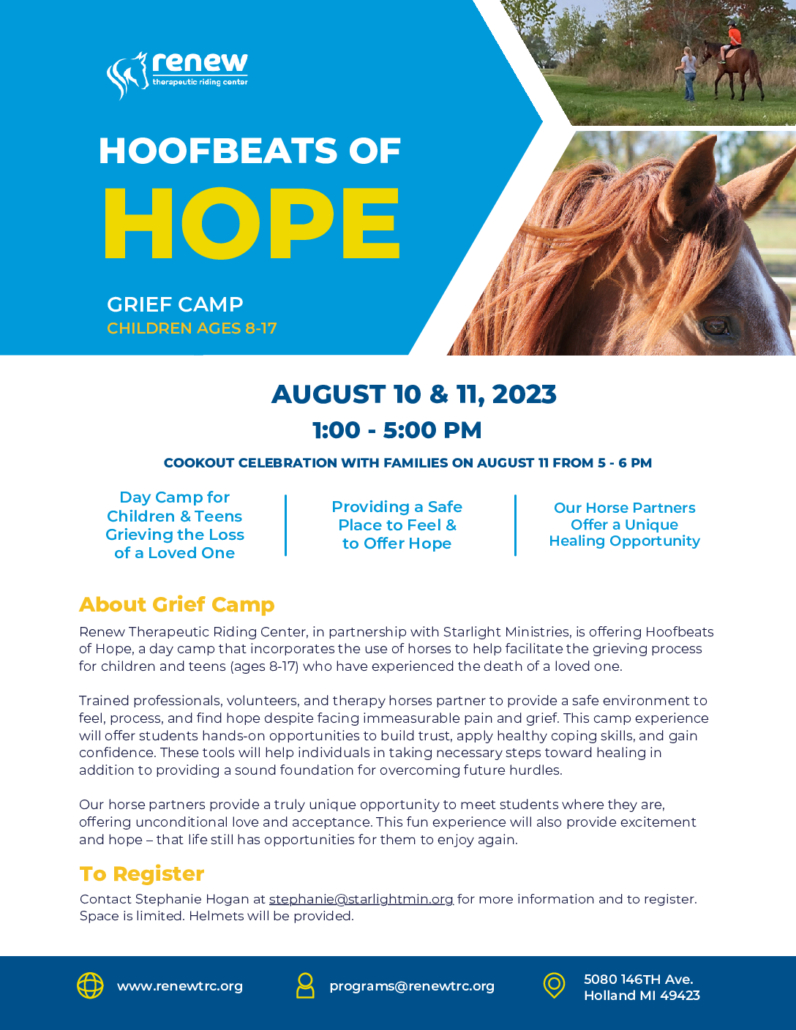 ---
You're Invited!
The second annual Renew Celebration Horse Show brings local horse enthusiasts in the community together with Renew riders for an inclusive day of showing and riding. All abilities welcome and show clothes not required. We would love to see you there, whether you're there to compete or want to help cheer on the riders. We hope to see you there!
Renew Celebration Horse Show
At Holland Western Horse Park
Saturday, July 29, 2023
Registration begins at 7:45A; Show begins at 8:30A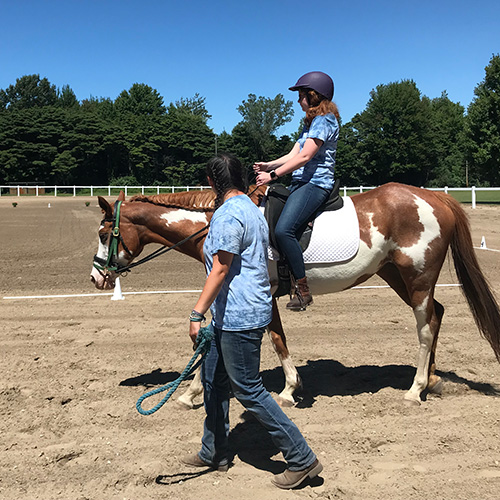 https://renewtrc.org/wp-content/uploads/2023/07/5-x-7-IMG_4753.jpg
0
0
melissa
https://renewtrc.org/wp-content/uploads/2018/11/RenewLogoHorizontalFINAL2c.png
melissa
2023-07-20 12:04:11
2023-07-20 12:04:12
July 2023 Update