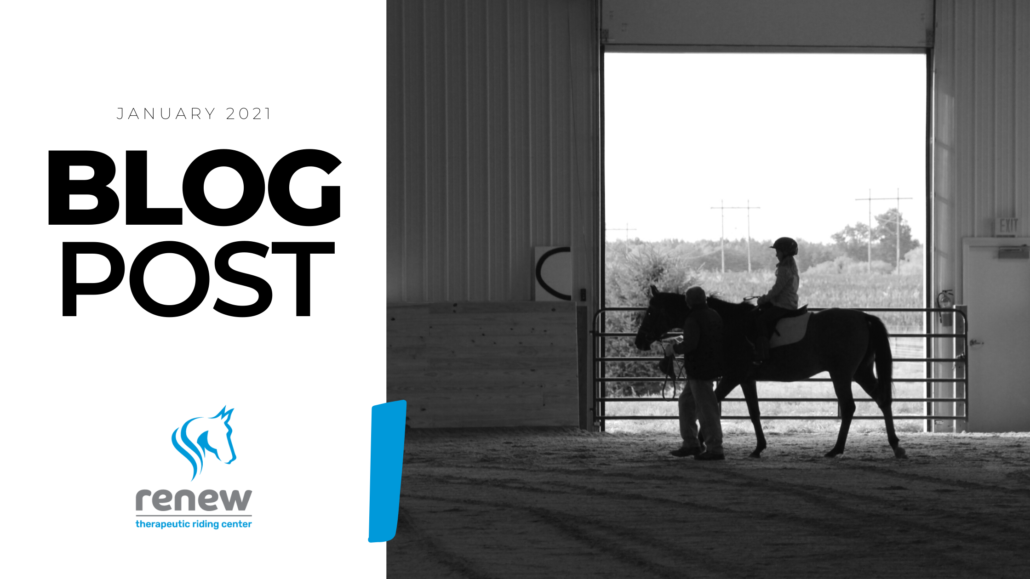 The year 2020 was many things, but not all of them were negative. Renew safely and creatively carried out effective services to our community throughout the pandemic. There was beauty and life changing work happening at Renew every day.
As the year began to wind down, Renew staff and board members set aside time to intentionally reflect on the culture of Renew as it relates to who we are and how we carry out our mission and ministry.
"We looked over our list of Core Values and decided that it was time for an update," explained Melissa Conner, Executive Director. "To do this, both the Board and the Staff spent time identifying priorities and offering one-word descriptions of what we provide at Renew, and what we hope to accomplish. Both groups did a series of collaborative exercises to come up with a list of possible values, and then narrowed the list by privately and individually prioritizing each value. We defined each value, gathering input from all, and linked each value to a verse as a foundation for its meaning."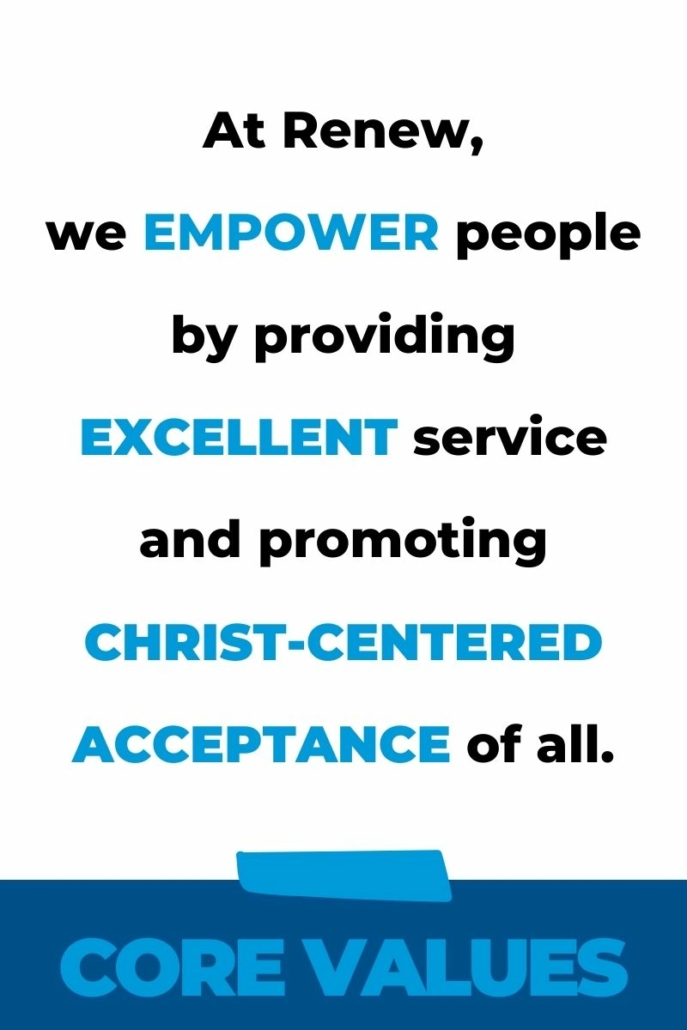 EMPOWER
We collaboratively engage with others to maximize efforts to support and equip individuals, families, and teams to promote positive life change and to build a stronger, more unified community. (Hebrews 13:3)
EXCELLENCE
We commit to confidently pursue the highest quality of service in all we do. We believe in our mission wholeheartedly and are focused on ensuring that our students and families thrive. (Colossians 3:23)
CHRIST-CENTERED
As Christ followers, we believe that every person is precious to God and deserving of unconditional love, grace and forgiveness. We seek to lovingly offer opportunities for growth. (Philippians 2:3-4)
ACCEPTANCE
We value people as they are and compassionately partner with them on their journey to live life to the full. We actively seek out opportunities to celebrate accomplishments and milestones with joy and love. (John 10:10)
"We will keep these Core Values at the forefront of all that we do – our day to day work at the farm, as we welcome new participants, consider adding new programs, celebrate new accomplishments, and reach out to new potential stakeholders in the community," Melissa said. "We are confident in the value of what we do and excited to let all who are connected to Renew know our commitment to a positive culture when they come to our farm."
As we move forward and step into all that God has in store for us in 2021, we are excited to live out our Core Values and witness the transformative work of therapeutic horsemanship in the lives of those in our community.
January Spotlight
This month's blog post highlights Becky Kinsler, one of our dedicated and passionate board members.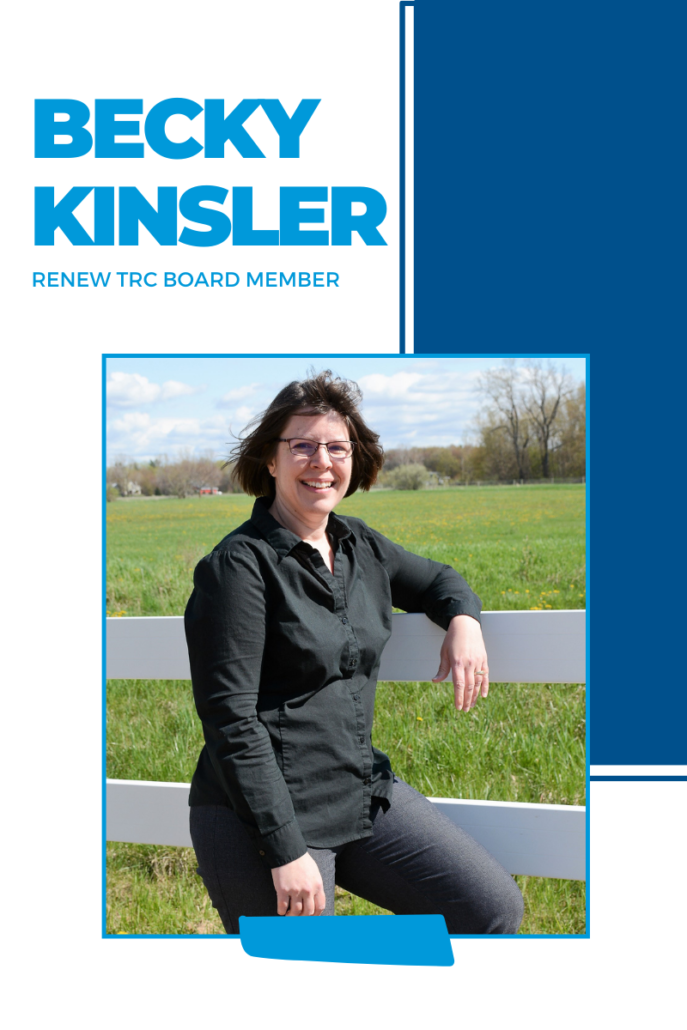 Could you explain a little about how you got involved at Renew?
In college, I had the opportunity to visit a therapeutic riding center in Indiana. For a semester, I drove once a week to their facility and observed lessons as part of my research for a senior design project. I fell in love with the horses and the students.
Many years later, I stumbled across an article in the Holland Sentinel about a new therapeutic riding program in Holland. I made contact and have been a volunteer with Renew ever since. For over 10 years, I've been a side-walker and horse leader. I've also had the opportunity to serve on the Board of Directors, and this past year joined the horse-feeding crew.
How long have you been serving on the Board of Directors at Renew?
This is my 6th year on the Board and the last year of my 2nd term. It has been a privilege to serve Renew, and support this amazing ministry.
Could you speak into the Core Value statements and how you specifically see them play out in the work at Renew?
Every time I step onto the property at Renew, I know that I will be welcomed with open arms, and accepted for who I am despite my flaws and fears.
This love and support is visible everywhere I look. It's the side-walker's hand gently holding the heel of a rider, and the instructor praising a student's first 2-point. It's the horse that calmly walks on carrying an exuberant student, and the volunteers that come faithfully every week to help with lessons. It's the parent of one student encouraging another when it's been a tough day at home. It's the staff, standing outside on a cold December night, so people could enjoy horses in Santa hats and holiday lights from the safety of their car. It's in the smiles and laughter as people gather together at Renew.
Do you have a personal story of a time when you've seen "positive life change" happen at Renew?
It's hard to pick just one story because I've witnessed so many "positive life changes". One that comes to mind is a non-verbal, adult student from Harbor House. When she first started lessons, she did not want to groom or ride the horse. It took several weeks for the instructors to get her successfully mounted & riding. She did not like to hold the grooming tools and pushed them away. One week, we skipped the grooming brush all together and put her hand directly on the horse. She did not immediately pull her hand away. Each week thereafter, we put her hand on the horse, and she'd leave it there a little bit longer.
Skip ahead several months to my last lesson with her. After dismounting at the end of the lesson, she turned, leaned in and put both hands on the horse. A few moments later, tears of joy were streaming down her face. She stood quietly with the horse for a while, leaving both hands in place. That was the first time her care provider had seen her cry. I feel blessed to have witnessed such a special moment.
Is there anything else that you would like to share?
I've enjoyed being a part of this life-changing ministry and am excited to see what the future holds! I'm so thankful for God's blessings and for each of you that have been a part of Renew.
https://renewtrc.org/wp-content/uploads/2018/11/RenewLogoHorizontalFINAL2c.png
0
0
melissa
https://renewtrc.org/wp-content/uploads/2018/11/RenewLogoHorizontalFINAL2c.png
melissa
2021-01-27 12:05:33
2021-01-27 12:05:35
January 2021