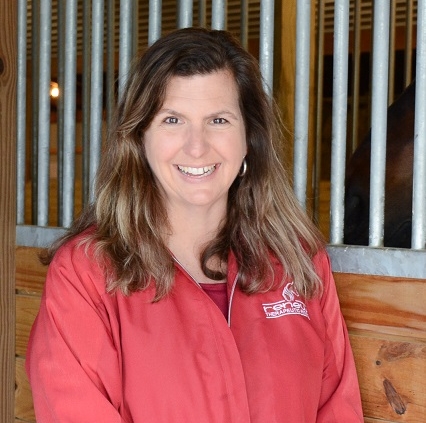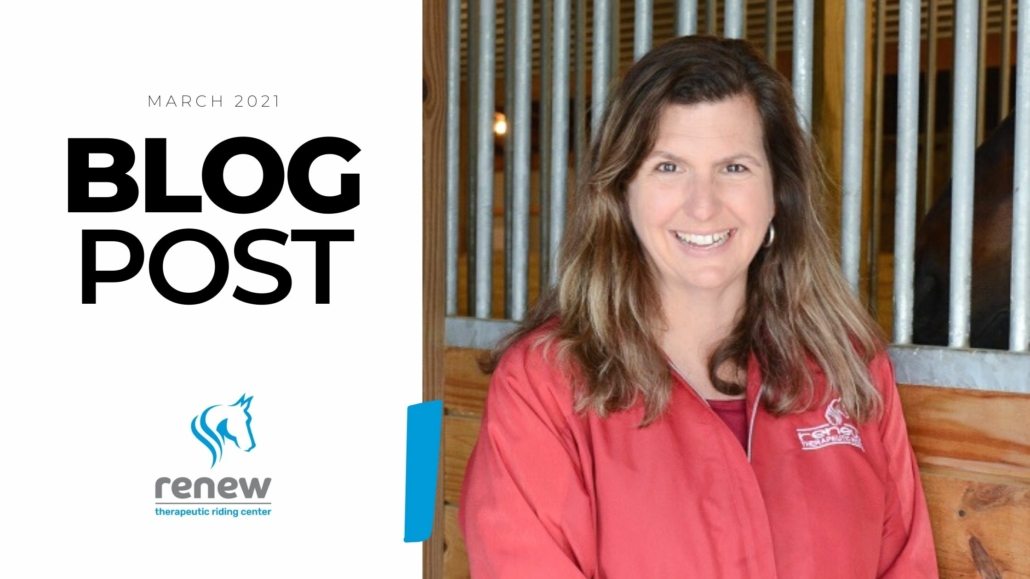 This month's blog post features a podcast that was recorded about a year ago, during the early stages of the coronavirus lockdowns in Michigan. Renew's Executive Director, Melissa Conner, connected virtually with Navigating Life As We Know It to record a podcast called "Getting to know therapeutic riding a little better".
We would also like to share some thoughts that Melissa shared about the podcast and some of the topics covered.
Could you explain a little about how you and Steve met and how this podcast came about?
I first met Steve at the Disabilities Network Lakeshore Ability Award banquet in 2016, and connected with him again over coffee after a conversation about disability services in West Michigan. Not too long after, he reached out to Renew about having his son assessed to be a program participant.
There is a lot of different terminology surrounding the type of services that Renew provides, and in the podcast you explain in detail the four different areas of Equine Assisted Services. Could you explain the importance of shared terminology and language in the industry, and also briefly touch on what fits under the umbrella of EAS?
Shared terminology is crucial in helping everyone develop understanding of which service is actually being provided. Everyone loves the idea of bringing together horses and people with disabilities, but once they are together the service provided can look quite different. To keep things simple, our industry has begun using the term EAS to include 1)therapeutic riding/vaulting/driving, 2)equine assisted learning/coaching; 3)equine assisted therapy (with a licensed speech, physical or occupational therapist), or 4)equine assisted psychotherapy (with a licensed mental health provider). While we plan to expand our services at Renew to include all of these areas as we grow into our new property, our primary service is and will likely always be therapeutic riding where an individual learns horsemanship skills taught by a Certified Therapeutic Riding Instructor (CTRI) with PATH International.
The podcast was recorded during the early stages of the coronavirus lockdowns and you contrasted how our herd was dealing with the pandemic with how we as humans were dealing with the pandemic. Could you explain a little about the nature of horses and how they have the potential to be great teachers if we are willing to listen?
What a great question! Horses prefer to be with us when we do not bring anxiety, fear, or anger with us into their presence. As prey animals, they are sensitive to the mood and feelings of the humans in their environment. If we are willing to slow down, be in the moment, and pay attention to them, then they have the ability to teach us amazing things about the world and ourselves. Often horses mirror the feelings of the humans they encounter, which can be quite telling.
You also talk in the podcast about PATH International, the accrediting body in our industry. Could you briefly explain the process of becoming a premiere accredited center and what that means for our center?
Being a Premiere Accredited Center with PATH Intl. means that we are committed to the highest level of professionalism and safety in offering equine assisted services. We commit to meet the industry-tested standards in the areas of administration, facilities, equine management, medical/mental health, and service/skill progression. Site Visitors from PATH Intl. schedule an accreditation visit every five years to observe services in progress, meet with families and volunteers, walk through the facilities and grounds, and review paperwork. By going the extra mile to this level of accreditation, we hope to give families and schools confidence that we are aligning with excellence in all that we do at Renew.
https://renewtrc.org/wp-content/uploads/2019/08/Melissa-Connor-small.jpg
426
426
melissa
https://renewtrc.org/wp-content/uploads/2018/11/RenewLogoHorizontalFINAL2c.png
melissa
2021-03-26 11:11:54
2022-02-26 04:10:31
March 2021 Blog Post