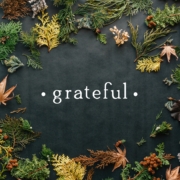 In a year of so many pauses, so many cancellations, and so many unknowns, we wanted to intentionally change our focus. We decided to devote the entire month of November to focusing on gratitude. And boy, do we have a lot to be grateful for at Renew!
Renew Therapeutic Riding Center's Fall 2020 newsletter will be making its way to your mailboxes soon. In keeping with the month of gratitude, we've chosen to highlight different areas of blessing, both expected and unexpected, over the past year.
We are humbled and grateful for the entire Renew family, who give faithfully and selflessly. One particular organization that we would like to take a minute to thank is the Holland Junior Welfare League.
The HJWL generously awarded grant funds to be used as scholarship for local children to experience the benefits of therapeutic riding at Renew in 2020. Their $5,000 award provided for 50 lessons to 14 different children during the summer and fall sessions. Especially during this challenging season for so many, we are grateful to the HJWL for their continued partnership and support of the mission of Renew and for making it possible for these families to experience "positive life change with every horse experience."
Not only are we grateful for the funding provided, but also for the hours of volunteer service that the members of the HJWL chose to donate to Renew! Last winter the ladies helped to prepare the new arena for lessons by sealing the new wood paneling around the arena, moving hay, and cleaning the barn. They returned again this fall and prepared Halloween goody bags and s'more packets for our students and families.
We are so grateful to the HJWL and the wonderful work they do in our community! Thank you for choosing to bless others through the mission of Renew!